Aotearoa / New Zealand at the World Court

by Kate Dewes and Robert Green

INTRODUCTION

What we want to do is publicise what is happening in this remote part of the world so as to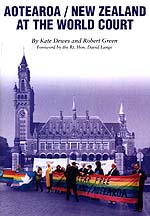 stimulate world opinion still further and attract wider support for the rights of small nations. Prime Minister Norman Kirk (1973)

Aotearoa/New Zealand (A/NZ)1 is a small, isolated South Pacific state with a population of around 3.5 million people, mostly Maori and European. This booklet highlights the role of New Zealanders in taking two controversial cases to the International Court of Justice (also known as the World Court), to clarify the legal status of firstly atmospheric nuclear testing in the South Pacific, and secondly the threat or use of nuclear weapons.

As a strong supporter of the League of Nations and active participant in the formation of the United Nations (UN), Aotearoa advocated that all states joining the UN should agree to submit any quarrels not solved by other peaceful means to the International Court of Justice (ICJ) and be bound by its decisions. It called on the UN General Assembly to use the World Court's advisory function to help resolve disputes at that time, such as the treatment of Indians in South Africa and the question of Palestine. New Zealand argued that if these questions were referred to the Court, the 'trained minds' could

... sift the chaff from the oats, lay bare the fundamental issues, state the arguments for and against and perhaps establish a set of guiding principles that would help us in making up our own minds.2

Between 1945 and 1995, the United States (US), United Kingdom (UK) and France tested 317 nuclear weapons in Pacific Island states and Australia. In 1973, responding to growing public concern about the health and environmental effects, A/NZ and Australia asked the World Court to challenge the legality of France's atmospheric tests at Moruroa. During the following decade Belau (1979), Vanuatu (1982), the Solomon Islands (1983) and Aotearoa/New Zealand (1984) prohibited nuclear weapons from their territories, and in 1985 the region became the South Pacific Nuclear Free Zone.

In 1986, New Zealand citizens, building on a 40-year history of anti-nuclear activism, initiated what became known as the World Court Project (WCP). This grew into an international movement which succeeded in having both the World Health Assembly (1993) and the UN General Assembly (1994) request advisory opinions from the World Court on the legality of nuclear weapons. On 8 July 1996, the Court attempted to 'sift the chaff from the oats' and 'lay bare the fundamental issues' when it delivered its historic finding that:

... a threat or use of nuclear weapons would generally be contrary to the rules of international law applicable in armed conflict, and in particular the principles and rules of humanitarian law,
and,

... there exists an obligation to pursue in good faith and bring to a conclusion negotiations leading to complete nuclear disarmament under strict and effective international control.
Aotearoa is the Maori name, New Zealand is the European name. Both are official and will be used interchangeably.