The World Court Project The Evolution And Impact Of An Effective Citizens' Movement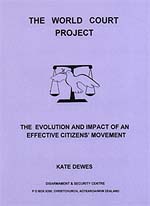 Doctoral Dissertation

by Kate Dewes
ABSTRACT

This thesis analyses how, over ten years from 1986-96, a worldwide network of peace activists, doctors and lawyers evolved the World Court Project (WCP), an unprecedented citizens' initiative which helped to persuade the UN to request the International Court of Justice (ICJ) for an advisory opinion on the legal status of nuclear weapons. After the largest participation by governments in a case, the ICJ confirmed that the threat or use of nuclear weapons would generally be illegal.

Chronicling the pioneering roles played by New Zealanders, the thesis also surveys earlier efforts by both citizen groups and governments to use the law to oppose nuclear weapons. It assesses why the advisory opinion route was not used sooner; and it highlights the contributions by women. In so doing, feminist research principles are blended with traditional methodologies: and primary sources include interviews with 46 key players. Aotearoa/New Zealand is used as a case study to record in detail the WCP's gestation from 1986-92, set against the history of government policies on nuclear weapons, including the 1973 ICJ case against French tests and the 1987 nuclear free legislation. It then examines how the international anti-nuclear movement was mobilised.

The approaches to the World Health Assembly and UN General Assembly are fully documented, followed by the campaign to encourage governments to make submissions to the ICJ. The thesis describes the successful struggle to convince New Zealand's reluctant and fairly conservative government to move from a negative stance to arguing strongly for illegality.

The thesis assesses the immediate impact of the WCP and explains why the project succeeded. It examines the roles of certain individuals and small states, and how the public conscience and the law were harnessed to help democratise the Court. Finally, it offers lessons learned which could be applied in other campaigns.