Water not Weapons: Law not War

The message ignored by the 1993 World Summit on Sustainable Development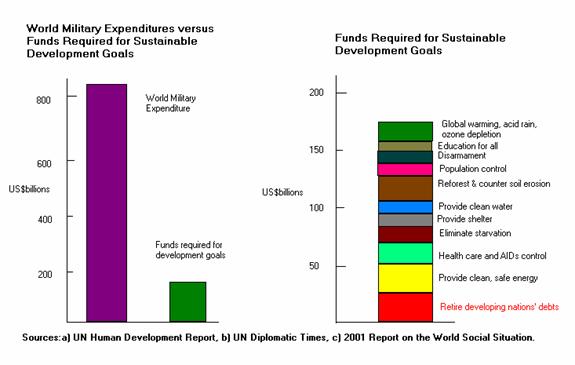 In August and September last year Peace Foundation members Pauline Tangiora and Alyn Ware were among the 60,000 people gathered in Johannesburg South Africa for the World Summit on Sustainable Development – the much heralded follow-up to the Rio Earth Summit of 1992.

Twenty years on, one would expect to see considerable progress in protection for the environment and development of sustainable practices. However, most independent assessments indicate the world is in a worse state now than it was 20 years ago.  There are currently 16 million people dying from starvation – 800 million malnourished, 100 million people homeless, 1.75 billion without safe water, 53 million refugees, 980 million people without basic health care, a reduction in the ozone layer by another 5%, the world's average temperature is rising due to global warming, 26 billion tons of topsoil is eroded each year, 28 million acres of rainforest continues to be lost each year, and the list goes on.

Unfortunately the World Summit on Sustainable Development did little to reverse this trend. While some small token measures were made, the Summit was mostly a scene of governments making friendly partnerships with powerful polluting corporations, backtracking on commitments made in Rio, sleight of hand to give the appearance of progress and blatant disregard for the voices of the people crying out for improvements to their lives and to the environment.

The most important message to the conference – one which was totally shut out of the official program – was that sustainable development is thwarted most by war and militarism and that demilitarization could completely fund sustainable development goals.

This message was picked up in earnest by non-governmental organizations, which gathered in Johannesburg, but were mostly shut out of the main conference venue and confined to another location 45 minutes away. International Peace Bureau released a paper "The Military's Impact on the Environment" which outlined the colossal (and mostly unreported) damage militarism does to the environment. To cite just a few examples:
The world's military forces are responsible for the release of more than 66% of CFCs and other ozone depleting gases into the ozone layer. This includes emissions from missiles and aircraft.

Over 25% of the world's airplane emissions come from military aircraft. These are a major contributor to climate change gases.

The Pentagon generates five times more chemical toxins than the five major US chemical companies combined

The global victims of the radiation pollution related to nuclear weapon production, testing, use and waste conservatively number 13 million

In an audio-visual presentation Water not Weapons: Law not War to the NGO conference, Peace Foundation member Alyn Ware outlined effective alternatives to the use of force thus eliminating any perceived need for sizeable military forces or for war.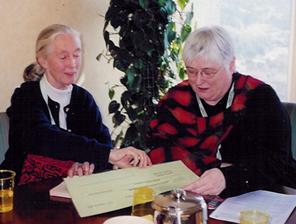 UN Messenger of Peace Jane Goodall and New Zealand Minister of the Environment Marian Hobbs with an unsigned  check for 0 billion – equivalent to the world's annual military spending.

At a press conference on September 2, a collection of NGOs presented a check of 0 billion from the world's governments to Jane Goodall, UN Messenger of Peace and Sustainable Development Adviser to UN Secretary General Kofi Annan. The check represents the amount of money spent annually on the military, 10% of which could fund the sustainable development goals identified at the Rio Earth Summit and at the WSSD. Unfortunately the world's governments have not yet agreed to sign over that money from the military to sustainable development – but Jane Goodall and the NGOs present committed themselves to campaigning for such a reallocation of military spending. It's up to us to help make this happen.

Note: The Flax Roots Perspective, an article by Pauline Tangiora on the WSSD, can be found in Dev-Zine, the newsletter of Dev-Zone. Contact info@dev-zone.org www.dev-zone.org

For copies of The Military's Impact on the Environment, contact alyn@lcnp.org